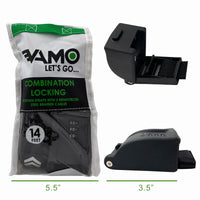 Vamo Combination Locking Tie Down Straps
9163427982
Combination Locking tie down straps designed to give keyless entry to your surfboards, paddleboards, kayaks or canoes. Silicone protective coating covers the combination housing which not only avoids scratching gear, but provides grip for cold fingers when tying gear down. Heavy-duty lockable load straps with three internal braided stainless steel cables allows for 800 pound load test and securely locks your SUPs, surfboards, kayaks or canoes to your car or truck. Not even a Ginsu knife will go through these. Specifications: Material: nylon + metal buckle + silicone cover. Color :Black+Black Type: lashing straps, tie down straps. Dimension: 10ft x 1.5inch Rated load: 800 lb. Package includes: 2 x lockable tie down straps.
Sale information
We actively try to steer away from the board shop vibe. We encourage questions, demos sessions, and gear research to make sure what you get is 100% right for your needs. We strive to do right by every customer (local or online) and welcome all paddlers to the Mike's Paddle Tribe!
Paddler Tested: Paddler Approved
All brands we carry have been vetted, tested, and approved by our team members. We don't like to sell gear that we wouldn't paddle or purchase ourselves and never want to rep a less than 100% awesome product!