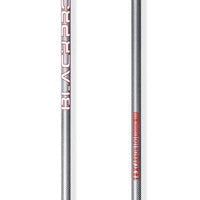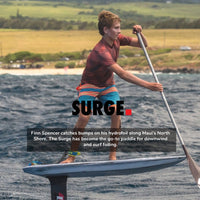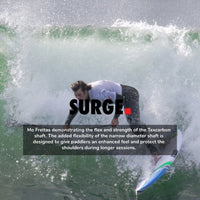 Black Project Surge Surf Paddle
SURGE TEXCARBON
SUP Surfing Paddle
The lightweight, powerful & responsive SUP paddle for surfers
The SURGE SUP surfing paddle is for paddlers who want catch more waves and surf better with less fatigue during long sessions. Whether you are hunting barrels on the North Shore or styling your local beach break, the Surge is designed to deliver power and comfort. Lightweight and durable, the Surge combines exceptional power, blade stability and dynamic flex to help you paddle faster into waves and enhance your surfing, while protecting your body from injury during long sessions.
The Surge was designed to meet SUP surfers' specific needs and has become the paddle of choice for many APP World Tour athletes including; Mo Freitas, Leco Salazar, Wellington Reis, Lara Claydon, Vania Torres Olivieri and more.
Thanks to its high power to weight ratio and comfortable slim shaft the Surge is also the recommended paddle for SUP Foiling and is the paddle of choice for pioneers of downwind foiling including M20 Champion Annie Reickert, as well as Finn Spencer, Jeffrey Spencer and more.
Sale information
We actively try to steer away from the board shop vibe. We encourage questions, demos sessions, and gear research to make sure what you get is 100% right for your needs. We strive to do right by every customer (local or online) and welcome all paddlers to the Mike's Paddle Tribe!
Paddler Tested: Paddler Approved
All brands we carry have been vetted, tested, and approved by our team members. We don't like to sell gear that we wouldn't paddle or purchase ourselves and never want to rep a less than 100% awesome product!