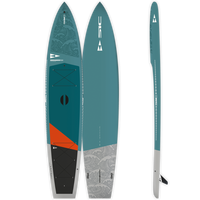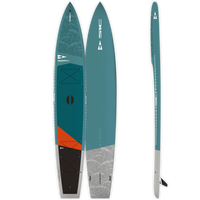 SIC Maui 2023 Okeanos Touring Board
Okeanos is named after the ancient Greek god of the sea and was further inspired by the NOAA Ship "Okeanos Explorer" located in Pearl Harbor, Hawaii. The purpose of this ship is to systematically explore our largely unknown ocean intent on discovery and the advancement of knowledge.

This new series is focused on fitness, touring and voyaging the unknown, so thus the name was chosen. The Okeanos shares similar DNA with the RS series, however, this board is made for recreational paddling and journeying rather than racing. This board paddles with ease and is capable of maintaining a fast pace and efficient glide. The concave in the tail on the bottom helps to maintain a straighter line, higher average speed and greater glide. The nose chine in the bow softens the ride in rough waters and tracks extremely well into the wind and in cross-chop. The generous tail width and full, squared-up rails make this board extremely stable. The wide point in the front section of the board has been shifted forward which also adds to the overall stability. The board has been outfitted with numerous tie-downs and inserts to mount your cargo and accessories. Capable of running either a single fin or two thrusters (sold separately) for paddling in shallow or rocky waters and reducing the draft of the board. This also make beach landings easier and your board will sit stable and secure on the land. The Okeanos is a great fitness board, ready to take on journey and adventure.
Please review our Shipping Policy before ordering to avoid confusion, thank you!
Sale information
We actively try to steer away from the board shop vibe. We encourage questions, demos sessions, and gear research to make sure what you get is 100% right for your needs. We strive to do right by every customer (local or online) and welcome all paddlers to the Mike's Paddle Tribe!
Paddler Tested: Paddler Approved
All brands we carry have been vetted, tested, and approved by our team members. We don't like to sell gear that we wouldn't paddle or purchase ourselves and never want to rep a less than 100% awesome product!