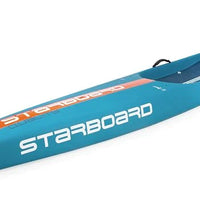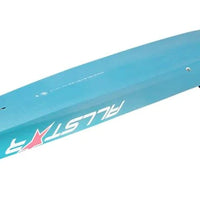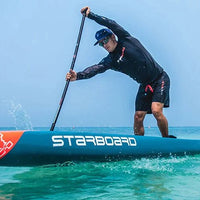 Starboard 2023 Allstar All-Water Race Board
From entry-level riders to elite racers, the All Star is the world's most winning, versatile and user-friendly race paddle board design. The new dugout standing area increases overall stability and control of this SUP racing board so you can focus on maximum power output with every stroke. 
NEW NARROWER TAIL OUTLINE
Faster acceleration and overall glide per stroke.

Upwind the narrower tail helps the board flow naturally with bumps, helping to lift the nose over swell.

Downwind, it makes it more reactive to maneuver between bumps.

Easier to sink the tail for fast snappy buoy turning.
NEW EXTENDED AND LOWER STANDING AREA
Helps to lower the rider's center of gravity for improved stability and control. Riders can now reach faster speeds and maintain speed over a longer time as they can focus on paddling with maximum power, instead of losing energy balancing.
Please review our Shipping Policy before ordering to avoid confusion, thank you!
Sale information
We actively try to steer away from the board shop vibe. We encourage questions, demos sessions, and gear research to make sure what you get is 100% right for your needs. We strive to do right by every customer (local or online) and welcome all paddlers to the Mike's Paddle Tribe!
Paddler Tested: Paddler Approved
All brands we carry have been vetted, tested, and approved by our team members. We don't like to sell gear that we wouldn't paddle or purchase ourselves and never want to rep a less than 100% awesome product!