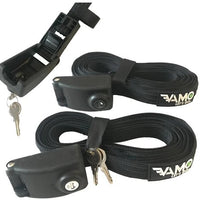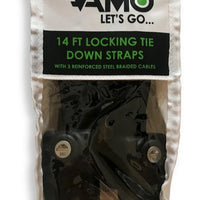 VAMO Locking Tie Down Straps w/ Interwoven Braided Steel Cables
Let's Go lock some stuff up with these 14' locking tie down straps. 
The VAMO 14' SILICONE COVERED Locking tie down straps are made with 3 Stainless Steel Braided Cables interwoven in the nylon to prevent anyone from taking your gear. Thick dura nylon so your boards stay scratch free without sacrificing strength or safety. Holds 1-5 boards on your car securely.

Turn key lock opens the vault and reveals the oversized stainless steel cam which allow users to synch your tie downs just as you would a regular Tie Down. It is wrapped it in silicone sleeve to make sure your cars paint job doesn't pick up dings while you are playing. Included with top load storage bag so your tie downs stay dry and organized in your car.

SUPERIOR TIE DOWNS, SECURES GEAR FAST & EASY: These tie downs are designed to ensure that they hold your cargo in place and prevent damage. The premium cam buckle loop tie down straps are designed to hold any load fast, safely and securely. Spend less time securing your equipment and more time having fun!

300 lb. 1" Dura Nylon. WORKING LOAD LIMIT 700 lb. BREAK STRENGTH
Sale information
We actively try to steer away from the board shop vibe. We encourage questions, demos sessions, and gear research to make sure what you get is 100% right for your needs. We strive to do right by every customer (local or online) and welcome all paddlers to the Mike's Paddle Tribe!
Paddler Tested: Paddler Approved
All brands we carry have been vetted, tested, and approved by our team members. We don't like to sell gear that we wouldn't paddle or purchase ourselves and never want to rep a less than 100% awesome product!