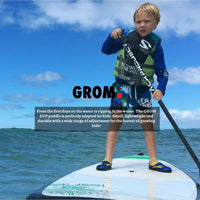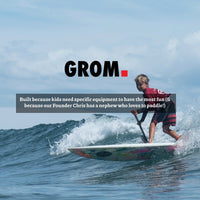 Black Project Grom Kids Paddle
GROM SUP PADDLE FOR KIDS
Lightweight & durable SUP paddle perfectly optimized for kids so they can progress quickly
Built to encourage the next generation of paddlers, the Grom paddle was designed specifically for kids. Featuring a slim-fit fiberglass shaft for more flex and comfort combined with a carbon reinforced blade for enhanced performance.
The XS blade, ideal for kids and smaller paddlers is now available in both Hydro and Surge options and gives smaller paddlers the power and comfort they need. The red shaft ensures your kids stands out on the water. The Surge version is ideal for all-round recreational use and surfing while the Hydro version is best suited for aspiring young racers.
With 30cm (12″) of anti-twist adjustment the Grom paddle will suit all your kids and adjust as they grow.
Set at a low price point, the Grom paddle will start your little paddler off the right way and get them hooked on a sport they can enjoy for the rest of their lives.
Sale information
We actively try to steer away from the board shop vibe. We encourage questions, demos sessions, and gear research to make sure what you get is 100% right for your needs. We strive to do right by every customer (local or online) and welcome all paddlers to the Mike's Paddle Tribe!
Paddler Tested: Paddler Approved
All brands we carry have been vetted, tested, and approved by our team members. We don't like to sell gear that we wouldn't paddle or purchase ourselves and never want to rep a less than 100% awesome product!